PDO THREADLIFT
A Thread Lift using Smooth Nova threads, which are great or tightening your skin, stimulating collagen & smooths crêpey skin. Its suitable neck, jawline, face & brow lifting. Its minimally Invasive, very comfortable ,takes only 10 minutes to do under local anaesthetic . Its suitable for both men & women that want a non surgical skin tightening & lifting. PDO threads were developed in korea. Results last up to two years. Different types of PDO threads, include:  twisted- which add more volume, barbed – for increased lifting , smooth threadlift like the one in the video. €390
There are three main types of dermal filler viscosity:
(1) Dense – ideal for naso labial folds , Marionette Lines, Cheek enhancement   (1 ml) from €410
(2)  Medium Density – ideal for upper lip wrinkles, lips augmentation.  (1 ml) from €360
( 3) Low density  – for very fine lines. ideal for tear trough area.  From €290
Brands of filler used: Restylane, Perlane, Stylage, Linerase, Juvederm, Neauvia, Filorga
Dermal filler treatments now available with Sharon , on the following areas: Creases between nose & mouth ( Naso labial fold) ,  upper lip lines (Lipstick or smokers lines) , Creases on lower edge of outer mouth (Marionette Lines ) , Cheek enhancement , Lip fillers.
Book Now: Free consultation for injectables with Sharon
Skin Boosters
Skin Booster treatment can restore your skins hydration & elasticity making it firmer and more youthful. It will soften fine lines and it stimulates collagen. It's suitable for  dehydrated loose skin on your face, neck, chest area or the back of the hands for plumper glowing skin. A Safe, animal free and biodegradable product suitable for men & women.
SKIN BOOSTER- HANDS 
SKIN BOOSTER – NECK
Dermal Fillers Aftercare Advice

WRINKLE RELAXING INJECTIONS
A phenomenally successful treatment , predominantly used for the softening and smoothing of expression lines; i.e. frown lines, forehead lines and crows feet.
A series of small quick injections is administered to the area. The ideal result softens and takes out lines, however, still leaves some natural expression.
The fact that 90% of people who try this treatment repeat it is its own recommendation.
1 area= forehead OR Crows feet OR between eyebrows
Wrinkle Relaxing Injection:  1 area €220
Wrinkle Relaxing Injection: 2 areas €300
Wrinkle Relaxing Injection: 3 Areas €350

Wrinkle Relaxing injections- Aftercare advice
FROWN LINES- VERTICAL LINES BETWEEN BROWS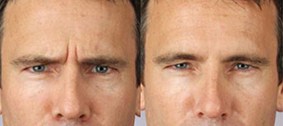 Vertical lines between the eyebrows are known as the Glabella area. They can give an angry appearance. These lines are caused by several small muscles which are usually used for frowning. These muscles are also used when squinting, so not wearing glasses or sunglasses when you need them can make these lines develop quicker.
Anti-Wrinkle Injections can be used to reverse or slow down the progression of these lines. For most people the lines can be quite easily treated with Anti-Wrinkle Injections and if necessary, with dermal fillers. The muscles can be treated fully to completely obliterate movement in this area and thereby often remove the lines or they can be treated partially, depending on the amount of toxin used. Usually treatments need to be repeated twice to three times per year. Over time the lines can require less frequent or less strong treatments as a result.
Frown lines- Between brows:  Wrinkle Relaxing Injection:  1 area €220
SMILE LINES – CROWS FEET

Smile lines are the lines that appear at the side of the eyes when we smile. These lines can be present from childhood and like everything can be more prominent in some individuals. The lines are caused by the tendency for the skin to fold and are totally dependent on the shape of your face, the size of the muscles involved and of course how often you use these muscles to smile and laugh!
How many muscles does it take to smile?
Newspapers around the globe assure us, "Frowning takes more muscles than smiling,"
13 to smile, 33 to frown – The Washington Post
10 to smile, 100 to frown – The New York Times
4 to smile, 64 to frown – The Hindu
The muscle that is most responsible for causing 'smile lines' is known as the orbicularis oculi, a circular muscle that sits around your eye and is also used to shut your eyes tight.
When this muscle is treated with Anti-Wrinkle Injections we can achieve quite remarkable results in some cases. This area when treated well can be quite difficult to spot as having been treated, even to a trained eye (for those clients who prefer to keep their treatment a secret!).
Treatment involves a few tiny treatments on each side of the face and literally takes less than a minute. In terms of pain, most people describe the treatments as 'not sore at all' or 'just a pinch'. Usually treatments are repeated twice or three times per year.
Crows Feet: Wrinkle Relaxing Injection:  1 area €220
WORRY LINES – HORIZONTAL FOREHEAD LINES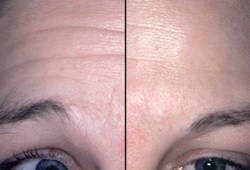 Worry lines are horizontal lines that run across the forehead. These lines are caused by the folding of skin when the frontalis muscle contracts. Prominent or scarred lines in this area can make some people look worried when they are not. This area is quite sensitive to Anti-Wrinkle Injections and smaller amounts of toxin are often required to treat this muscle relative to other areas in the face. For this reason, this area responds very well to Anti-Wrinkle Injections and dramatic results can be achieved.
However, over treatment of this area can be quite noticeable as several celebrities unfortunately have demonstrated.
Forehead Lines:Wrinkle Relaxing Injection:  1 area €220
BROW LIFT – WRINKLE RELAXING INJECTION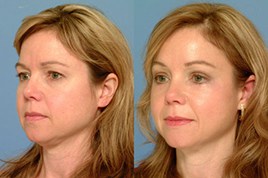 Some people naturally have a nice lift in the outer portion of the eyebrows. Others don't and may also have excess skin hooding over the outer part of the eye.
A frequently performed and often highly effective procedure is the non-surgical brow lift. When Anti-Wrinkle Injections are injected into the area, the muscle can no longer pull the corner of the eyebrow down and a 'brow lift' can result. The result is usually milder than an actual surgical brow lift, but can give very pleasing results, 'opening' the eyes up and revealing more of the upper eyelid.
brow Lift- Wrinkle Relaxing Injection: 1 area €220
 LIP VOLUMISING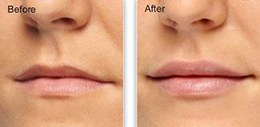 The lips are a focus of facial attention and are said to contain 100 times more nerve endings than the fingertips. Our lips can reveal things about us like distress or worry by variations in their size and colour.  Thin lips area sign of aging, since our lips lose volume as we get older.
Dermal fillers can be used to replace or add volume to the lips. Topical numbing cream is used to numb the lips prior to treatment. The dermal filler also has a numbing agent in it to increase comfort. Most average clients are satisfied with 1 ml of dermal filler placed in the lips. when clients decide to only have 0.5 ml placed in their lips, they usually come back for another 0.5 ml a short time later.
Restylane Lip:  0.5ml Dermal Filler €290
Restylane Lip:  1ml Dermal Filler €360
DERMAL FILLER – NOSE TO MOUTH CREASES – NASO LABIAL FOLDS
Lines stretching from the corner of the nose to the side of the mouth are known as the naso-labial folds. These lines are usually produced as a result of strong muscles of smiling and can be a feature of ageing in some individuals.
The lines are very easily treated with Dermal fillers
The treatment lasts from 12-18  months depending on how dense of a dermal filler that is used. A high-density dermal filler lasts longer than a low-density dermal filler. a high-density dermal filler is used on very deep lines
Dense dermal filler- ideal for nasolabial folds, Marionette Lines   (1 ml) From €410
 CHEEK LIFT/ AUGMENTATION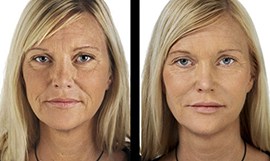 One particularly effective treatment is the 'liquid cheek lift'. This procedure involves injecting cheek volumising product into the cheeks below the natural cheek fat pads to replace lost volume in these areas. Lifting the cheeks can be one of the most dramatic, yet 'hard-to-put-your-finger-on' improvements to somebody's face.
Typically a treatment would need 2mls of filler. Numbing cream is used to minimise any discomfort involved with the procedure.
Dense dermal filler- ideal for  Cheek enhancement  (1 ml) From €410
 DOUBLE CHIN REMOVAL  
Get rid of your double chin with fat dissolving injections. Dermaheal Lipolytic Solution is a brand of fat dissolving injection. At Mi Skin Clinic, the fat under your chin or jowl area can be dissolved using a mesotherapy technique with Dermaheal Lipolysis Solution. This contains a biomimetic peptide that breaks down fat and prevents the body from storing any new fat in the treated area. It tightens the skin and improves elasticity, which is important when fat is removed so you are not left with any loose skin. Results can be seen about 4 weeks later. The number of treatments required depends on how much fat is present. Most clients require 2-4 treatments spaced one month apart. Results are permanent, so long as there is no weight gain. It's a comfortable treatment as numbing cream is applied beforehand. Afterwards, the treated area will become a little lumpy as the fat cells break up. You can begin massaging any lumps 2 days afterwards, to speed up the elimination of the broken up fat. It's a quick effective and comfortable treatment. An ideal alternative to liposuction, fat freezing or radio Frequency.